Member
Join Date: Feb 2018
Posts: 65
Mentioned: 0 Post(s)
Tagged: 0 Thread(s)
Quoted: 13 Post(s)
Shark Skwal Trion Mat Yellow. I like its overall visibility and the LEDs really pop at night. On the downside its quite noisy at highway speeds.

My next helmet will probably be a modular though, possibly a Shoei Neotec II.
Senior Member
Join Date: May 2018
Location: Corpus Christi Texas
Posts: 117
Mentioned: 2 Post(s)
Tagged: 0 Thread(s)
Quoted: 33 Post(s)
Scrapped the Nexx idea and purchased a Arai quantum X Box in red/white/silver/black that I got a great deal on. Very happy with it.
Here's a shot of the new X Box next to my 93' Arai QuantumS Kevin Shwantz replica.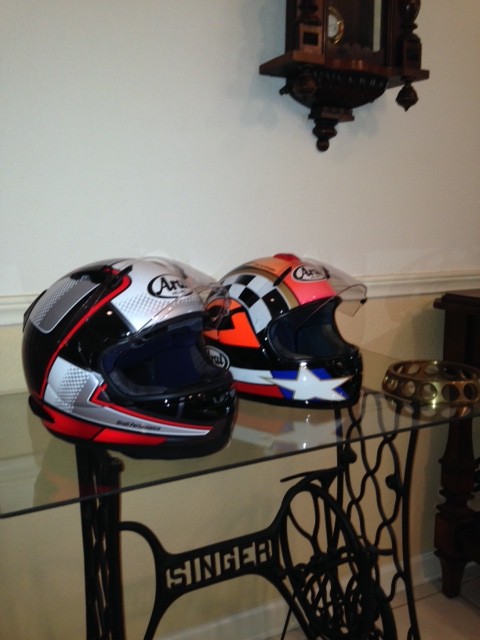 ---
Last edited by RobertO; 06-20-2018 at

01:11 PM

.
Senior Member
Join Date: Nov 2016
Location: Coffs Harbour Australia
Posts: 162
Mentioned: 1 Post(s)
Tagged: 0 Thread(s)
Quoted: 57 Post(s)
I can't guarantee noise reduction but for safety and comfort I recommend the Kali Naza, now produced by a US company but the patented "cone-head" safety design won Inventor of the Year in Australia a few years ago;
Senior Member
Join Date: Apr 2016
Location: Australia.
Posts: 1,030
Mentioned: 2 Post(s)
Tagged: 0 Thread(s)
Quoted: 361 Post(s)
Hi All,
As I said I have a Arai XD4 ADV helmet in the cupboard to go with the then future VStrom. (Got to look the part like parked on the Grand Canyon edge, scanning into the distance).
Actually it was save sunburn in summer at midday, and the Shoei GT-Air was for the late afternoon & night rides as it's eventual replacement.

It's taken about 2 years to solve the bad noise problem that radiates a roaring rumble right into my ears coming mainly from the ARAI peak visor.
When I had the naked GSXS1K, I had to remove the peak altogether.
I have put up with it on the V Strom's windshield buffeting and finally found the solution to two issues with it.

This may have some application to the GSXS- F wind shield but don't know.
I raised the shield mounting points vertically upwards by an 25mm/1 inch, by using 25 mm long 6 mm threaded hex joiners and cut some steel strap with about 25 mm hole centre's and moved the screen downwards from the screen's lowest position towards the headlight.
(Note, Any raising of the V Strom windscreen made everything worse upwards from the Factory lowest hole position. I am 5' 11" tall).

This fix worked a treat in two directions....
Firstly,
it moved the wind further forward and dropped the air flow more downhill like a figure 7, so now the clean stream of air is horizontal and not still rising upwards. No buffeting now at 100 KPH.
Secondly,
I get a lot more cool air from under the screen & nose cone now hitting the chest around breastbone area. I was going to say between the nipples, but some here may want the swearing filter turned higher by Admin.
I be 100% sure, I will try removing those 25 mm high standoff' 6mm joiners and then the screen will be back at Factory height, but 25mm lowered than the lowest OEM screen fixing position.

The real break through was the dust gathering Arai helmet peak. I attached a heavy load speaker magnet on the front top of the peak and held it in place with a spring steel metal paper bulldog clip.
The magnet stuck hard onto the paperclip. The magnet was 40mm round, 15 mm thickness and weighed 100 grams.
Worked a treat, 99% silence reduction up to the 100 KPH, complete with side winds.

So by removing the clip and magnet as test, it was roaring again at 20 KPH. Just the clip was enough to substantially reduce the din.
The peak on this helmet is attached by 2 screws on each side that also hold the visor to the helmet via the side plates. The peak design has no central support and this is the weakness as the plastic is soft and while this may seem to allow the structure to dissipate the wind energy , the revolving air from a front of a bike goes up and down continuously.
How ARAI released this design to market is disappointing, seeing it had previous versions, and other Makers helmets have central bracing of the peak.
In Australian Bush music, an experience hand can play a tune on gum leaf held in the hand by blowing air from his mouth ; this helmet peak is a worthy replacement.
My fix will be see if a small steel plate can be screwed to the front underside of the peak to give the needed rigidity, hopefully without causing movement stress cracking.

Rob.
Senior Member
Join Date: Mar 2019
Location: Elgin Moray, Scotland
Posts: 105
Mentioned: 0 Post(s)
Tagged: 0 Thread(s)
Quoted: 22 Post(s)
There is only one for me, SHOEI Multitec. Yes it old but its brand new, never been out of the bag and always been kept in warm dry conditions. I have the Shearwater edition which in my humble opinion is fabulous.
---
"I arrive. I see... is possible. I go fast. I WIN!" - Valentino Rossi
Member
Join Date: Apr 2019
Location: Cornwall
Posts: 36
Mentioned: 0 Post(s)
Tagged: 0 Thread(s)
Quoted: 8 Post(s)
Quote:
hi, I'm looking for a good helmet.
Especially for mitigating the excessive noise.
What's your experience?
Me too I was about to start a similar thread but then saw this . Having spent time trying helmets today Iam so undecided and confused
Shoei gt air ticked all my boxes , must have internal sun visor mainly .
Then I tried on an Arai and it was more comfy and easier to put on etc , my ears just popped into place no shuffling about to get comfy but no sun visor .
Iam looking at the Arai external sun visor and finding it hard to believe it can be any good , but I want to like it because of the fit of the Arai .
Perhaps the Shoei will fit better with the thinner cheek pads they offer , I have chubby chops .
Then someone mentioned lightvreactive visor .
Also like the flip front Shoei when I tried it on , and I always hated those before .
Will the Arai work with sunglasses maybe
Itís a lot of money to make the wrong choice
Senior Member
Join Date: Feb 2019
Location: Australia
Posts: 396
Mentioned: 2 Post(s)
Tagged: 0 Thread(s)
Quoted: 120 Post(s)
If it's a good fit get a Shoei nxr that's what there called in Australia.
It's light weight plus the shell size is small very stable
At speed plus it doesn't look huge like some helmets.
I really like Arai also I've still got one of the older model rx7 corsairs and the nxr is lighter.
---
Last edited by My Name Is Jeff; 04-13-2019 at

09:46 PM

.
Member
Join Date: Mar 2016
Location: Lakewood, CO
Posts: 92
Mentioned: 2 Post(s)
Tagged: 0 Thread(s)
Quoted: 32 Post(s)
Quote:
I ended up owning 9 helmets. Shoei, Arai, HJC, Scorpion, Bell, and Vemar. There really is not much difference in quality or long term durability. If I had to rate them, like that, the top helmet might be a 96, the lowest, a 92.
Two things I've learned. One is, if the helmet is intended, or marketed as a "race" helmet, its been designed to wear by a rider using low bars. It can be very quiet when your head is aimed that way, but raise up as you would for higher bars, and its noisy. Thats the shoei x 11 and x 12. With this bike, a sport touring or touring cut will be better.
The best helmet I have is easy to mention. I tried one on in a motorcycle shop in a small Idaho town. I never considered their brand before. When I put it on, it was slightly snug, but I knew it would break in over the next few rides and be perfect. It felt like it was made for me. It is the Bell Revolver Evo.
If you find a brand , with YOUR kind of fit, it will be pretty quiet, for YOU. None are really quiet enough to not use ear plugs.
They are all made the same way. They protect your head with material like they make the cheap 7-11 camping coolers with. Then they protect the styrofoam with a hard coating, paint it, and charge you.
From our only testing program, you see dollars spent does not mean added safety.
SHARP Helmets - THE HELMET SAFETY SCHEME
So, heres my guide to owning one and not having to buy 9.
If its super comfortable , in the shop, its too large. Drop down one size to where its slightly too tight. 99% chance to not listen to who is selling it to you. Cycle Gear used to let you return a used helmet, but most dont. Usually stores will keep up sizing you, but comfort will come later. You really want something halfway uncomfortable. If you hit 100mph and the shin strap holds the lid on, you are wearing a size to large. Sometimes two sizes.
Dont feel bad about removing the cheek pads for a test fit. If that top part fits well, you can buy different cheek pads for a custom fit.
Dont get sold on one brand. I like HJC. They are reasonably priced, look good, and everyone has them. However, their large is too large, their medium is too small..for me, so I cant wear their brand.
Arai and Shoei and any other high end helmet are great, but they have to fit you to be any good at all.
this is an old post.. but SPOT on for helmet advice!!
---
2016 GSX-S1000
2013 Honda F6B
Senior Member
Join Date: Feb 2019
Location: Australia
Posts: 396
Mentioned: 2 Post(s)
Tagged: 0 Thread(s)
Quoted: 120 Post(s)
Yep all good advice..
But you should take a measurement of your head first it just makes it that much easier
Than just going into the shop and trying on helmets and end up with a size to large.
I'm a 58 so that puts me at the last measurement in a medium before going to a large so it would be easy
to get the wrong size and end up with large.
I take the cheek pads out also and check that it's not to tight around the crown.
Anyhow I wear a medium helmet and check pads from a large for a great fit.
Senior Member
Join Date: May 2019
Location: South Wales, UK.
Posts: 101
Mentioned: 0 Post(s)
Tagged: 0 Thread(s)
Quoted: 52 Post(s)
Arai chaser (without plugs) and caberg open face (with plugs), maybe looking for a new full face lid shortly. Would ideally like a helmet with an internal sun visor and speakers built in if such a thing exists.
---
Last edited by Goon; 11-18-2019 at

02:13 PM

.